I have reviewed several free utilities from popular developer Nir Sofer before and have found them to be really useful, portable and stable. So the release of a new utility is always worth a look.
The latest is called OutlookAddressBookView – a quick and easy way to display/save the details of all recipients stored in the address books of Microsoft Outlook.
OutlookAddressBookView is a free, tiny and portable program (doesn't need to be installed). It works on all versions of Windows from Windows 2000 up to and including Windows 7/8.
It works with Outlook 2003, Outlook 2007 and Outlook 2010. It is a simple way to view (or save) the details of all the recipients stored in Outlook address books. Recipients means only those contacts which have an email address saved in the contact details.
The program is particularly useful if you have a large number of contacts e.g. 200 with email addresses and 300 without. Standard backups of Outlook (e.g. via the .pst file or export of contacts) will save all the contacts data but do not differentiate between those with or without email addresses i.e. they would save all 500 contacts.
Whereas OutlookAddressBookView will only display the 200 contacts with email addresses.
Features – For every recipient entry, the following information is displayed:
Email Address
Display Name
Address Type (MS-Exchange or SMTP)
Street Address
Phone Number
Created Time
Modified Time (Works only with address books of Exchange server) and more
How To Use OutlookAddressBookView
Download the program in a zip file from Nirsoft at the bottom of the page here.
Now close Outlook! The program needs to access your Outlook profile to extract the recipients – leaving Outlook open when running this program may cause corruption or inability to save any open messages/appointments.
Unzip (extract) the zip file and run the OutlookAddressBookView.exe program file to open the program. It automatically scans your default Outlook profile and displays the address books stored in it as shown in the example below: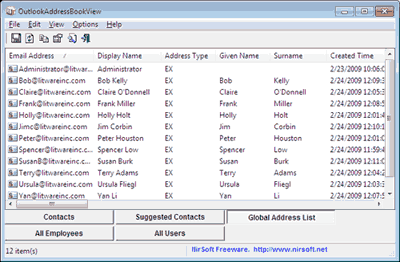 In the lower section of the window there are one or more tabs – each represents a single address book.
For home users, you may find only one address book named 'Contacts'. For business users connected to Microsoft Exchange, you should get more types of address books. For Outlook 2010, you'll also get the 'Suggested Contacts' address book.
To view an address book, click the appropriate tab. Anyone used to NirSoft utilities will be familiar with the layout and find their way around easily – as is common, you can select one or more recipients in your address book, copy them to the clipboard and paste them into Excel.
You can also save them into tab-delimited/comma-delimited/xml/html file by using the File \ Save Selected Items menu bar option (Ctrl+S hotkey) or by selecting the floppy disk icon.
Conclusion
OutlookAddressBookView is a quick and portable way to read, display and save/print the details of all the recipients stored in Outlook address books.