Knoppix free live Linux CD can be used to backup your files – even if Windows will not start. We reviewed the best way to backup files on a hard drive which is to back them up from within Windows. However, if you are unable to log into Windows or can't backup your files there (due to system corruption or virus infection) you need a different method. Step forward Knoppix.
Knoppix is a free live Linux CD. Put simply, it is an operating system (like Windows is) which runs totally from a CD when you boot (start) your computer i.e. it does not install itself onto your hard drive or overwrite your Windows installation, files or programs – you can boot and run it even though you already have Windows installed.
Benefits Of Knoppix
It can access and read the files on your hard drive – this makes it perfect for copying data onto an external device (e.g. USB hard drive) if you can no longer log into Windows to backup from there.
It does not interfere with your Windows installation – when you are finished, remove the CD and the next time you start the computer you will be back to your old Windows again.
Viruses can infect your external backup device if you plug it in within Windows but they can't infect it if you plug it in within Knoppix – it's the safest way to backup important data before reinstalling Windows or doing a factory restore.
If the Windows file system is corrupted you may not be able to access some files but Knoppix is often able to read them (because it uses its own file system, not the corrupted Windows one).
Similarly, if your hard drive is failing, it often lets you access and backup files which Windows can't. It is less 'fussy' about minor hard drive errors because it only has to access the hard drive to read it – it does not have to run on the failing hard drive (like Windows does).
How To Get Knoppix? You need the latest English version which is available as an ISO image file – the file is large (approx 700MB) so may take quite a long time to download. You can do this in 2 ways:
If you have a Bittorrent program installed you can download the ISO file in a torrent from here which should be the quickest way to get it OR
Download the ISO file from here – this contains a list of mirrors (websites) – choose one of the HTTP links nearest to you.
How To Burn Knoppix To CD? – Once you have downloaded the ISO file you need to burn it to a CD as an image (not just copy it) – follow our instructions to burn an ISO image file to CD.
To Start The Knoppix CD – Set your computer to boot from a CD first (before the hard drive) – this will enable it to start from the CD before it tries to start Windows. If you do not know how to do this see our guide how to boot from a CD.
Assuming you have now changed the boot order to enable booting from CD:
Connect your USB external hard drive (or flash drive) to the computer – it is important that your external backup device is already plugged in before you start Knoppix so that Knoppix can recognize it properly.
Insert the Knoppix boot CD and restart your computer – if you followed the above steps it should begin loading from the CD.
You may see lots of info scrolling down the screen – just wait a few minutes until the main desktop appears. The Knoppix desktop is quite similar to Windows – there is a nice desktop background picture, a 'Knoppix' folder on the desktop and the equivalent of a 'Start' button in the bottom left corner of the screen. An example is shown below: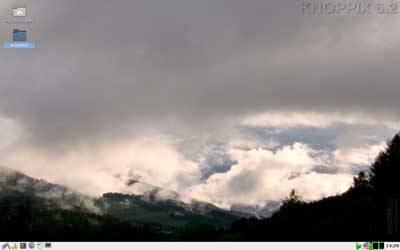 Using Knoppix – notes on copying files:
Open a folder: you only have to click once on a folder to open it (unlike Windows where you have to double click to open the contents of a folder).
Select a file: you only have to move/hover the mouse cursor over a file to select it – you do not have to click on it! If you do it will try to open the file which is not what you want. To select multiple files, hover the mouse over the first file then hold down CTRL (to select individual items) or SHIFT (to select rows/columns of files) and move the mouse over the other files to select them. It just takes a bit of getting used to!
Copy a file: same as Windows – right click on it and choose Copy or click on Edit in the menu bar and choose Copy.
Paste a file: same as Windows – right click on empty space in the folder you want to copy it to and choose Paste or click on Edit in the menu bar and choose Paste.
Navigate through folders: same as Windows – you can use the Up/Down or Back/Forward arrows below the menu bar in File Manager to navigate through the folder 'tree' structure.
The 'Knoppix' folder on the desktop is similar to (My) Computer or Explorer in Windows – it is a basic file manager. Click once on this folder to open up the Knoppix file manager as shown below:
In the left panel of this Knoppix window you should see your drives and some standard folders listed – knoppix, Desktop and the KNOPPIX CD are standard but hopefully you will also see your hard drive and your external device(s). In our example above we have an Iomega external USB hard drive and a Corsair flash drive connected, as well as our computer hard drive (which is split into Vista and W7 partitions – you will most likely just have a single Windows partition).
If you can see your hard drive and your external device you are now ready to backup your files to it.
Click on your hard drive – in the right hand panel you now see the files/folders in it.
Navigate through the folders to the items you want to backup – remember to just single (not double) click on a folder to open it. In our example below we have selected our Vista drive – we could now click on Users, then the Username of the relevant user, then Documents etc.
Once you have found what to backup, select them all and choose copy.
Now click on your external device in the left panel. Navigate to where you want to put the files and choose 'Paste' to copy them across.
Repeat this process for the other things you want to backup e.g. Pictures, Music, Favorites etc.
Warning: Knoppix gives you full access to your hard drive – do not delete anything from your hard drive within Knoppix or they will be gone for good. If you delete a file it will be deleted permanently – next time you start up in Windows it will not be there!
Make Navigation Easier
Once you have selected the first batch of files on your hard drive, minimize that window and click on the desktop Knoppix folder to open another file manager window then select your external device in this second window.
Having both windows open lets you copy and paste more easily between the two – in our example below we have separate windows for our Vista hard drive and our Iomega external drive – we have resized them to fit both on the screen and make it easier to copy and paste between them (just like in Windows, you can drag and drop the corners/edges of a window to make it larger or smaller).
How To Close Knoppix
Once you have finished backing up, click the equivalent of the 'Start' button which is in the bottom left corner of the screen. Then click 'Logout' and click 'Shutdown'.
The shutdown process will commence and eventually eject the CD and tell you to remove it – do so then press the Return (Enter) key to shut down the computer.
Remove your external backup device – you can now connect it to a new/other computer and copy your files onto that :-)