This is how to easily disable print preview in Chrome so that selecting Print opens up the standard Windows system dialog box instead.
Print Preview lets you see the layout of what you're going to print in advance – while some may find it helpful, I find it annoying. It can also be very slow to preview some web pages.
Unlike some previous methods, this solution still works at the time of writing in March 2019 (Chrome 73).
How Print Preview in Chrome Works
Selecting the Chrome Settings (3 dots) icon then 'Print' opens the Print Preview popup which takes up most of the screen. You can also open it with the CTRL + P keyboard shortcut.
There is an option at the bottom left to 'Print using system dialog…' – this closes the popup and opens the standard Windows system dialog box, used by other web browsers and most programs for printing.
It is possible to open the standard Windows system dialog box directly, without print preview, using the CTRL + Shift + P keyboard shortcut.
But you'd have to remember to use this keyboard shortcut every time – it's much easier to just disable Print Preview so that selecting 'Print' opens the standard Windows system dialog box immediately.
An example of a standard Windows print system dialog box is shown below: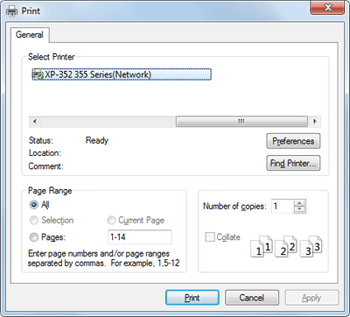 How To Disable Print Preview In Chrome
Follow these 5 simple steps to disable it and use the Windows print system dialog instead:
Make sure Google Chrome is closed
Find the program shortcut you use to open Chrome – usually it's on your desktop or pinned to the taskbar
Right click on this shortcut and select 'Properties' to open the shortcut's Properties window
In the 'Shortcut' tab click in the 'Target' box, go to the end of the current entry and add the following command:
" --disable-print-preview" NB without the " " quote marks and note that there is a single space at the start followed immediately by two hyphens: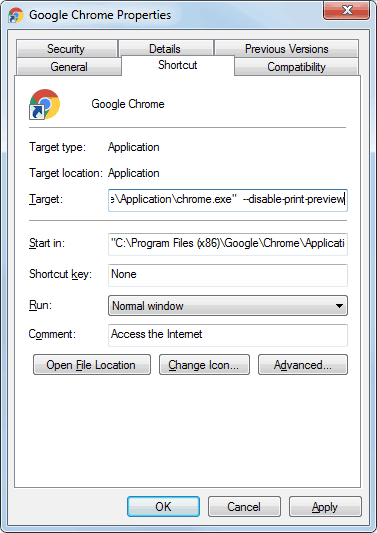 It's hard to see in the picture so check that the last part of your entry in the Target box now looks like this:
… \Chrome\Application\chrome.exe" --disable-print-preview
Press OK to apply the change and close the Properties window
Use this amended shortcut to start Chrome as usual – selecting 'Print' will now open the standard Windows dialog box, not Print Preview.
Tip: if it doesn't work you may have mistyped the command e.g. omitted the space or used a single hyphen instead of two at the beginning – it works in Chrome 73 at the time of writing.
If you ever want to revert back to using Print Preview, follow the same procedure above but, this time, delete the extra command from the end of the Target box.
Using Different Chrome Shortcuts
The text you added is what is called a command line switch – it tells Chrome to use a certain configuration when it starts up.
It is possible to have 2 (or more) versions of the Chrome shortcut – this can be useful if 2 people share the same user account in Windows e.g. you could have one shortcut to open Chrome with print preview enabled, and a second shortcut to open Chrome with it disabled.
If you need to do this, copy and paste the revised 'no preview' Chrome shortcut to somewhere else e.g. onto the desktop and, in that version, delete the extra command from the end of the Target box – this shortcut will now open Chrome with Print Preview as standard whilst the original shortcut won't.
Conclusion
It's quite easy to disable print preview in Google Chrome – it needs some care when typing the command but does allow the use of different shortcuts if required. Hopefully one day Google will provide a simple menu option to disable print preview.
If you liked this article, why not take a look at how to save ink and paper when printing in Chrome?