It is often useful to reload (refresh) all tabs in Chrome, or Firefox and IE.
For example, if you start Chrome with many tabs pre-loaded but your internet connection is not on, you'll end up with many tabs showing 'page unavailable' and you may want to refresh them all.
Unlike some other web browsers, Chrome does not include a simple right click (context menu) option to do this so we'll look at Chrome first.
[Note: if you want to refresh specific Chrome pages automatically, see our auto refresh extensions review]
Reload All Tabs Chrome
It is possible to do this manually or by using an extension.
Manually
If you right click a tab in Chrome there is only a 'Reload' menu option, no 'Reload all tabs'. However, you can easily make this 'Reload' option apply to all tabs by selecting them first:
Click on the first tab. Now hold down the Shift key and click on the last tab then let go of Shift. You should notice that all tabs now have a much lighter background color than the usual dark grey – this indicates that they are all selected.
Right click on one of these tabs and select Reload (or CTRL+R) to reload all the selected tabs.
Tip: this process of selecting tabs is much like selecting groups of files. You can select all, as described above, or you can select individual tabs – click on the first, hold down CTRL key, then click on each of the other tabs you want to select.
Likewise, if you wanted to select only the first 5 tabs – click on the first tab then hold down the Shift key and click on the fifth tab to quickly select those 5 only.
Using A Chrome Extension
if you need to reload all tabs frequently, or find the above manual process too much work, a quicker alternative is to use an extension to provide this functionality:
Install the Reload All Tabs extension from Chrome Web Store here. It offers 3 ways to quickly reload all tabs:
1. Click the extension's reload button on the right of the Omnibar.
2. Use the keyboard shortcut – by default it is Alt + Shift + R
3. Right click anywhere within an open page and choose 'Reload this window' from the new context menu option as shown below:
Options: After installing Reload All Tabs, right click its reload button on the right of the Omnibar and choose Options. Here you can see how to hide the reload button or can choose to disable the context menu option.
You can also specify if you want to reload all tabs in all Chrome windows (not just within the current window) and if you want to reload only pinned or unpinned tabs. Or choose to only reload all tabs to the left or right.
Finally, there is a link to change the keyboard shortcut to a different combination if you wish: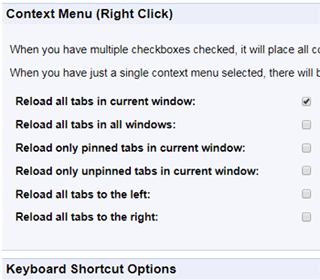 Press the Save button when you have finished making any changes. This extension works very well – it doesn't offer a context menu option when right clicking a tab (like other major browsers), only within a page, but this may be due to Chrome's limitations. However, it does add far more functionality than the basic feature available in Firefox and IE.
Reload All Tabs Firefox
Firefox used to have a context menu option (right click on a tab and select 'Reload All Tabs') but since Firefox 64 (in December 2018) this option has disappeared. The process now requires an extra step as you have to select all the tabs first:
Right click on a tab and choose 'Select All Tabs' as shown below:
You should now see a blue indicator line above every tab to show that they are selected. Now right click on a tab and choose 'Reload Tabs'.
[this context menu option changes automatically from Reload Tab to Tabs (plural) only if more than 1 tab is selected]
Tip: if you only want to refresh specific tabs, you can select them in the same way as the manual process described for Chrome above, using Shift or CTRL to highlight them.
Reload All Tabs IE
This is the simplest of all – just right click on any open tab and select 'Refresh All' as shown below:
Conclusion
The ability to easily reload all tabs is very useful so it is odd that Chrome does not include it as a menu option. It isn't hard to do it manually but the Chrome extension does a great job and offers extra functionality.
Refreshing all tabs is very well supported in IE and used to be in Firefox – less so in 2019.