This week Amazon released the Send To Kindle application for Mac users. It is a free application that lets you send documents from your computer to registered Kindle devices, supported Kindle apps and your Kindle Library.
Transfer of documents via wireless (recommended) is free but you could use the Whispernet (3G) service if necessary (for which charges apply). The new Mac version offers much the same features as the Windows version that was launched back in January.
[Looking for the Windows version? More info and download Send To Kindle for PC here.]
Send To Kindle For Mac Features
Send personal documents to your Kindle from your Mac
Drag and drop one or more documents on to the Send to Kindle icon in your Dock or launch the application and drag and drop one or more documents on to it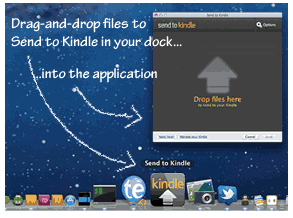 From any Mac application that can print, select the print menu and choose Send to Kindle. All documents are delivered in PDF format using this option
From Finder, simply control-click on one or more documents and choose Send to Kindle
Choose to archive documents in your Kindle library, where you can re-download them conveniently at any time
You can download personal documents from your Kindle Library onto physical Kindles and to Kindle apps – the apps are available for Android, iPad, iPhone and iPod touch.
File Types Supported
Text documents
.DOC – Microsoft Word (older versions)
.DOCX – Microsoft Word (newer versions)
.TXT – plain text files
.RTF – rich text files
Images/pictures
JPEG (.JPEG, .JPG)
GIF (.GIF)
PNG (.PNG)
BMP (.BMP)
PDF files
PDF (.PDF)
You can also send content from any application that supports printing – this includes web pages in Safari or another browser.
Whilst this is a quick and easy way to automatically convert a webpage into a PDF file and send it to your Kindle/app, it may be worth considering the free Readability addon which I reviewed last year – it's my personal favorite for converting webpages to a better reading view and it now offers Android and iOS apps too.
Tip: if a complex PDF file is difficult to read, consider converting it with the free K2pdfopt utility (Mac and Windows versions) – the simplest and best PDF converter I have found for both e-readers and smartphones.
Download
Send To Kindle for Mac requires Mac OS X v10.6 (Snow Leopard) or Mac OS X v10.7 (Lion). Download from Amazon here.
Conclusion
Send To Kindle for Mac emulates the features of the Windows version released in January – it's a simple way to wirelessly transfer personal documents from your Mac to a Kindle (or app).
There are perhaps better ways to send webpages as PDF files using browser addons but the ability to send a variety of other documents for reading later is very useful.