It's simple to add quick search keywords in Firefox. These let you quickly use a website's search engine – directly from the Firefox address bar.
E.g. to search Wikipedia you could just type a keyword of wik in the address bar then type your query and press enter – and the results will appear in Wikipedia. This can be much quicker than having to find and visit the website, look for a search box within it and type your criteria from there.
Tip for users of other browsers: you can also add quick search keywords in Chrome or in IE8 and IE9.
Add A Quick Search Keyword In Firefox – Browse to the website containing a search box within it i.e. a box used to look within that site (many sites have one, ours is near the top right of this page). In the examples below we will use Wikipedia but you can do the same thing with the box on any website if it has one.
Right click the search box within the webpage and select 'Add a Keyword for this Search':
This will open the 'New Bookmark' window.
Change the Name field and Keyword field to whatever you prefer (we have used wik as a keyword):
Note: the Keyword is what you will later type into the address bar to search Wikipedia directly. Make it short so it's quick to type and remember – you could even use w if you won't be adding any other engines starting with the same letter.
Change the Folder field only if you prefer to save the new bookmark in a different bookmark folder – the default of Bookmarks Menu will add it to the standard drop down list of Bookmarks from the menu bar.
Press the Save button when finished – you have now created a quick search keyword.
Using A Quick Search Keyword
In Firefox address bar, type the Keyword you created earlier e.g. wik followed by a single space.
Now type what you want to browse Wikipedia for and press Enter – you will be taken straight to the results page on Wikipedia's website – just as if you did the same search from Wikipedia itself.
e.g. typing wik new york times will go straight to the relevant Wikipedia page for that newspaper.
Managing Quick Search Keywords
Select Bookmarks and browse to the saved Bookmark.
[Alternatively, select Bookmarks \ Show All Bookmarks to display the Bookmarks Library and browse to the saved bookmark from there]
Right click the saved bookmark – to delete it choose Delete or to modify/view it choose 'Properties' to open the Properties for the saved keyword bookmark: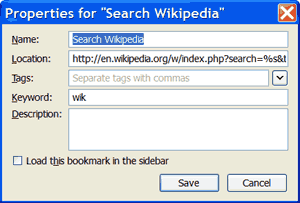 If you want to amend the Keyword or Name text, click in the keyword/name field and change it then press Save.