Sometimes you need to delete a file or folder that Windows Explorer refuses to let you delete.
This is particularly common with files infected by a virus but can also occur if a file is locked or has permissions (security settings) that prevent you deleting it.
There are several ways to delete files that cannot be deleted in the usual way. Complicated methods involve taking ownership of a file, changing security permissions, deleting from the Recovery Console or a boot CD etc.
However, a much easier method is to use Pocket Killbox.
Pocket Killbox is a free program to delete files that cannot be deleted by Windows Explorer – it can delete either a single file or folder at a time.
It can also display running processes (tasks) and let you end them – useful if Task Manager has been disabled by a virus (to enable Task Manager again see here). The program is portable so you don't have to install it.
Download from Softpedia here – there is a Beta (test) version which seems to work ok but I would recommend downloading the standard version from one of the 3 mirror sites to avoid problems
The downloaded program file is called Killbox.exe – simply double click to run it
Optional: pressing the Processes >> tab expands Killbox to show a list of running processes as shown below (pressing << Close hides it again). You can select one or more running processes and press End Task to end them. Be very careful with this – some will be important Windows processes that must not be ended or Windows will stop working!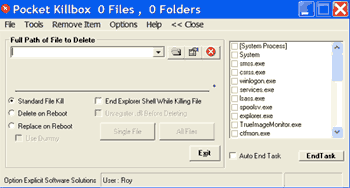 Press the standard yellow 'Browse folder' button to browse for and select a file or folder that you want to delete
The full path of the file/folder and the name of the file or the label 'Directory' will appear as shown below – in my example I want to delete a 'Temp Folder' stored in C: drive –
Make sure the name/path of the file or folder is correct then press the white/red cross to delete the item
A confirmation message appears – choose Yes to delete and a message will appear if the item has been successfully deleted
What If The File or Folder Could Not Be Deleted?
By default, the 'Standard File Kill' option is selected – this attempts to delete the item immediately.
If it fails, choose the 'Delete on reboot' option and try again – this works for tricky 'locked' files (e.g. an active virus) – you will be prompted to restart the computer so Killbox can delete the file/folder outside of Windows (so it is not locked).
Are The Files/Folders Deleted Permanently?
No, by default Pocket Killbox saves a backup of every deleted file/folder in a special folder called !Killbox – you will find it at the root of your Windows drive e.g. C:\!Killbox
If you are sure that you do not need to keep these backups just delete them from the !Killbox folder in the normal way using Explorer – they will not be locked so can be easily deleted.
Conclusion
Pocket Killbox is a tiny program which is also free and portable. Users of the popular malware scanner Malwarebytes can find a similar tool called File Assassin in Malwarebytes (menu bar \ More Tools \ Run Tool) but this can only delete single files, not folders.
Pocket Killbox is a much quicker and easier method to delete files and folders that cannot be deleted by Windows Explorer in the usual way.