Should I Remove It is a free program to help you decide which software junk to remove from your PC. We've reviewed before how to manually speed up a slow computer – uninstalling crapware, bloatware and obsolete programs is a useful part of that process.
However, when faced with a long list of installed programs, it can be difficult to tell which are the trials, adware and annoying toolbars etc that clutter up your PC and browser.
Should I Remove It – this free and lightweight utility displays which programs are installed and provides a simple guide to quickly determine which are safe to remove. It is compatible with XP, Vista, Windows 7 and 8 – 32bit and 64bit (requires .NET 3.5 or higher).
Ratings (out of 5 stars) are provided for each program – the higher the star rating, the safer and more useful the program is deemed to be. Program ratings are provided by experts and users alike.
Removal % is also shown for each program as a color coded bar – this is the percentage of users and experts who uninstall the program. The higher the percentage (amber/red), the more likely it is that the program is unnecessary, intrusive or even downright malicious.
Selecting a program provides two options as shown above – 'What Is It' and 'Uninstall'.
What Is It – this option opens a page in your web browser with detailed information about the program. The additional information often includes a description as to what the program does, where it came from, comments from users and the possible consequences of removing it. Obviously not every program in the world can be included in any such database but it provided good coverage of common bloatware in my tests.
Uninstall – unlike many similar programs, this option lets you uninstall the program directly so there is no need to open Programs and Features (Add/Remove Features).
Download – download from the official website here. Once installed, run the program and wait for a minute until it has completed the scan of installed programs.
It is easy to see from the example screenshot above that the only suspicious programs both relate to the Ask Toolbar – over 80% of users remove it and it is overwhelmingly rated as very poor (1 or 2 stars). Pressing the What Is It button reveals more details about the program, including helpful guides on how to reset the web browser homepage and search settings if Ask changed them:
Pressing the Uninstall button launches the standard Windows uninstall routine to remove the program.
Settings
The utility does not run in the background (a good thing) and can itself be uninstalled in the usual way. The Settings button gives you the option to run the program as a scheduled task once per month if required, to check for any new programs. You can also check for updates to the program itself and clear the program's cache (need to press Refresh afterwards ro rescan your apps) as shown below: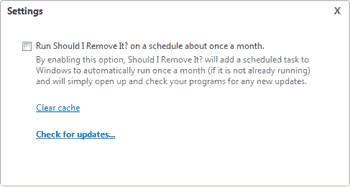 Conclusion
Should I Remove It is a safe and painless way to look for and uninstall unwanted programs. Ultimately the final decision to uninstall is yours but it provides detailed information about most common programs and more assurance that the majority of other users, including experts, are doing the same thing.