When you open the Windows Task Manager and look at the Processes tab, you may notice that one of the running processes is called jqs.exe – but what is jqs.exe and do you need it?
What Is JQS.exe (Java Quick Starter)
It refers to the Java Quick Starter – a part of Oracle's Java program. It was included in Java for many years (since version 6 update 10) – it was designed to improve the initial startup time for some Java applets and applications.
To achieve this, jqs.exe runs continually in the background which is why you may see it in Task Manager.
Note: jqs.exe is enabled by default in Windows XP but not on Vista and Windows 7/8/10. It was also only a part of Java 6 and 7 – the current Java version 8 no longer includes it.
Do You Need Java Quick Starter?
It typically uses only a couple of MB of memory (RAM) but the way it pre-fetches files in and out of memory inevitably has some impact on computer performance – and the disk input and output can become intensive over time.
This might be a reasonable way of spreading the load of starting Java – but only if you use Java at least once every session.
If you don't use Java regularly/daily then all that pre-fetching of files (and jqs.exe itself) is a complete waste of your computer's valuable resources – it may impact your computer's performance every day for no benefit.
Also, I can't say that I have ever actually noticed any increase in speed of Java applet startup that jqs.exe is supposed to assist with…
How Often Is Java Used?
According to research, a few years ago only 0.2% of all the websites in the world still used Java – web based games like Runescape was the most obvious survivor although most online games now use HTML5 or Adobe's older Flash Player instead.
In my opinion, Java is only installed on many computers because people think they still need it – over 50% of our visitors have it installed but I'm sure that very few ever actually use it.
For this reason I suggest disabling jqs.exe unless you know that you use Java on a daily basis – Java works perfectly well without the Quick Starter program running.
How To Disable Jqs.exe
The easiest way to disable jqs.exe for all users of a computer is:
Press the Windows and R keys at the same time to bring up the Run command (or click 'Start' and type 'Run' into the Search box)
Type services.msc and press OK to load the Services configuration window – this shows a list of installed services as shown below: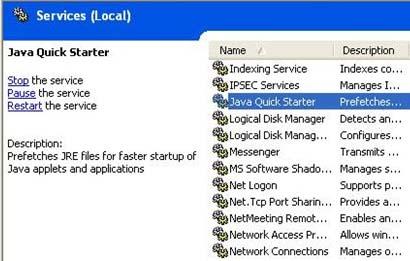 Scroll down this list of services until you find 'Java Quick Starter' and then double click it to open the Java Quick Starter Properties window as shown below:
 In the General tab, change the 'Startup type:' from 'Automatic' to 'Disabled' then press the OK button
Close the Services window – after you next restart your computer jqs.exe will be disabled and will no longer run.
You will be able to confirm jqs.exe is not running by looking in the Task Manager \ Processes tab.
Tip – You may see some websites recommending that you disable jqs.exe via Control Panel \ Java Control Panel \ Advanced Tab \ Settings \ Miscellaneous \ untick Java Quick Starter.
However this has several major disadvantages compared to the method shown above:
1. It doesn't always work – many users report that jqs.exe comes back after restarting the computer.
2. It only applies to the currently logged in user, not all users of the computer.
3. The change is deleted the next time you update Java – so you would then have to repeat the process all over again…
For these reasons I always recommend disabling the Java Quick Starter Service as I outlined above – to make sure it works, and stays disabled.